Construction Specialties Launches New eCommerce Experience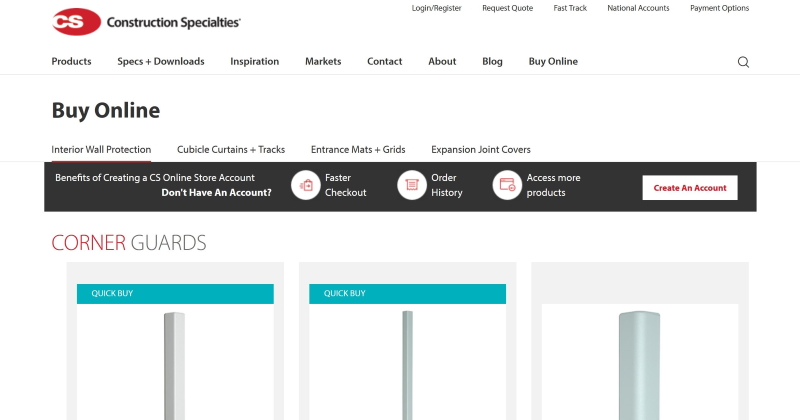 For more than 70 years, Construction Specialties (CS) has been dedicated to delivering innovative solutions that help facility professionals save time and money. Known for cost-effective, durable products that elevate a building's aesthetics, CS has redesigned and relaunched its eCommerce experience to make shopping for those items a seamless experience. "Commercial facility managers and owners now have a new, sleek interface to purchase the products they need that keep facilities cleaner, safer and more attractive without disrupting operations, contributing to a positive occupant experience," said Amy Devore, sales director for facilities and eCommerce at CS. Quick and Easy Ordering & Shipping

The new experience includes the following improvements: Address Validation: This new technology ensures addresses on both shipping and billing are correct, expediting the ordering process. It also helps to avoid shipping delays and errors, so products get to customers more quickly.

Improved Tax Exemption Process: Customers will be able to upload their tax exemption document during checkout. A tax analyst will review the uploaded exemption form, and once approved, the tax that was charged on the order will be refunded.

Favorites List: Customers can now save products to their "Favorites List," which can be accessed at any time. By clicking on the heart icon located on a product, it will be saved in the customer's personalized folder.

Enhanced Payment Options: The simplified checkout allows customers to pay with credit cards or electronic checks. Plus saving cards for future use is fast and easy.


Click here to view original web page at facilityexecutive.com
I am a robot. This article is curated from another source (e.g. videos, images, articles, etc.). For the complete article please use the link provided to visit the original source or author. Content from other websites behaves in the exact same way as if the visitor has visited the other website.
Warning: The views and opinions expressed are those of the authors and do not necessarily reflect the official policy or position of MichelPaquin.com.