Dubai's Al Maya Group completes majority stake buy in B2B ecommerce portal Conektr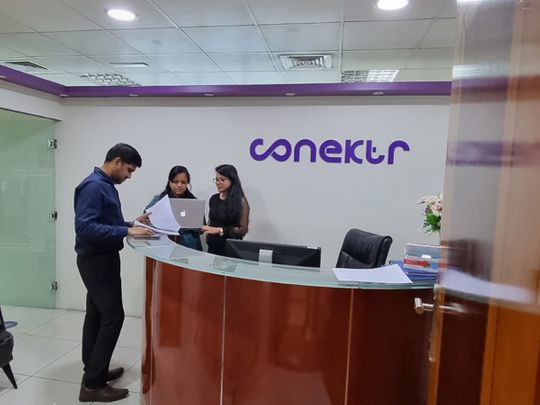 Conektr's platform is used by more than 7,000 grocery stores in UAE Conektr will now leverage Al Maya Group's infrastructure to scale in Gulf markets. Dubai: The Dubai-headquartered retailer Al Maya Group has bought a majority stake in Conektr, an ecommerce platform for fast-moving consumer goods. The latter supplies to more than 7,000 grocery outlets in the UAE.

A controlling stake for Al Maya will help expand its own distribution base, representing as it does multiple international brands in the local/regional markets. Conektr's digital platform allows B2B clients to buy, operate and sell their stocks online.

"This partnership helps Conektr to plug in, play and scale our company with instant access to their world-class warehousing and fleet of services across GCC region," said Madhusudhanan Janakarajan, founder and CEO of the portal. The acquisition is now complete and gives Al Maya Group added reach in the retail distribution space. From left. Rajendra Menon, CFO Al Maya group, Kamal Vachani Group Director, Al Maya Group, Madhusudhanan Janakarajan Founder and CEO Conektr, Rakesh Jha General Manager, Al Maya FMCG. In a statement, Kamal Vachani, Director at Al Maya Group, said: "Conektr is among the most transformative partnerships we have had. The platform will significantly enhance our ability to drive engagement with retailers and play a more meaningful and relevant role in the distribution and retail industry."

The Al Maya Group, established in 1982, employs more than 5,000 employees for its business verticals such as the distribution of food and non-food products, processing plants in India and elsewhere, and over 90 retail stores in the UAE and GCC, including supermarkets.
Click here to view original web page at gulfnews.com
I am a robot. This article is curated from another source (e.g. videos, images, articles, etc.). For the complete article please use the link provided to visit the original source or author. Content from other websites behaves in the exact same way as if the visitor has visited the other website.
Warning: The views and opinions expressed are those of the authors and do not necessarily reflect the official policy or position of MichelPaquin.com.