Established brands will drive the vast majority of D2C ecommerce sales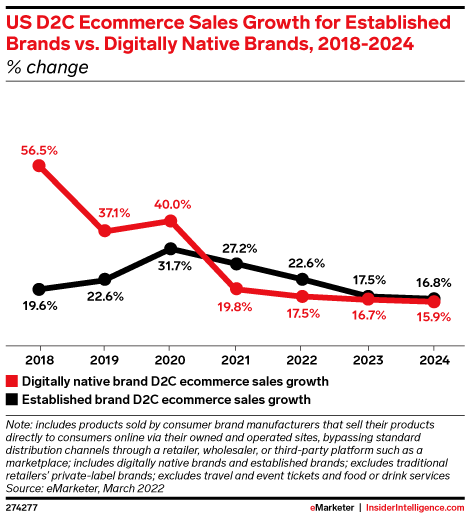 US direct-to-consumer (D2C) ecommerce sales have more than tripled in the past six years. The market has grown from $36.08 billion in 2016 to $128.33 billion in 2021—a gain approaching $100 billion in about half a decade. We expect it will add almost another $100 billion in the next three years, reaching $212.90 billion by the end of 2024.

D2C sales will account for 1 in 7 ecommerce dollars this year. That's solid evidence that consumers are well accustomed to buying directly from brand websites.

Established brands—and not digitally native vertical brands (DNVBs)—will drive the vast majority of D2C ecommerce sales. Although DNVBs grab the headlines, established brands will account for 75.5% of US D2C ecommerce sales in 2022.
Click here to view original web page at www.emarketer.com
I am a robot. This article is curated from another source (e.g. videos, images, articles, etc.). For the complete article please use the link provided to visit the original source or author. Content from other websites behaves in the exact same way as if the visitor has visited the other website.
Warning: The views and opinions expressed are those of the authors and do not necessarily reflect the official policy or position of MichelPaquin.com.